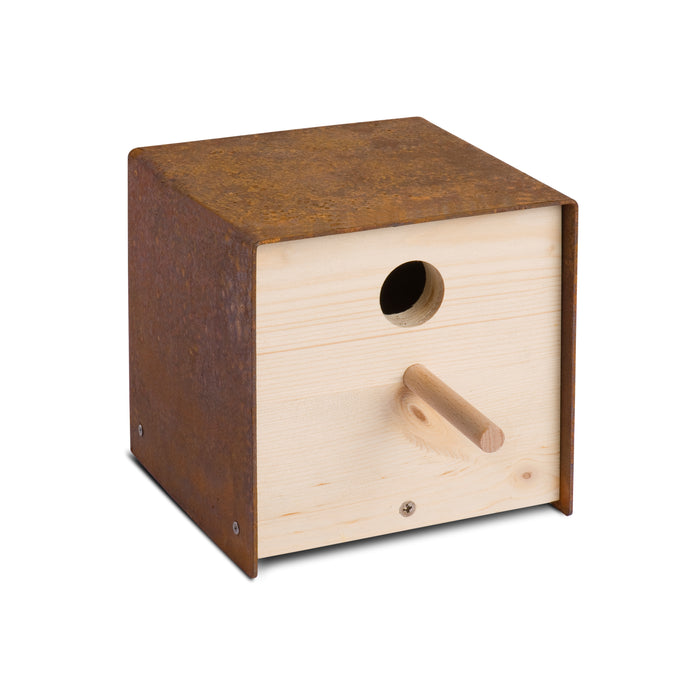 twitter
Save

€-89,00
Including value added tax
Twitter, the new concert hall for bird songs!
The nest box twitter turns any tree into a design hotel for architecture-oriented birds.
The outer shell made of stainless steel or weatherproof steel serves as rain protection. Inside, in contrast, the birds find a cozy, species-appropriate interior made entirely of wood. The steel cover is not directly connected to the wooden interior, so the air can circulate well.
"A very likeable product in which winged friends feel at home for sure and which offers a pleasant calm aesthetic to our eye. I would say: Balanced modern architecture with the potential to become a classic." (translated)
Sabine Lenk, former director of the Design Center Stuttgart
Mounting methods:
- screw onto a pole (not included in the delivery)
- hang on a branch
- fasten to a tree trunk
- attach to the wall of the house
twitter
Stainless steel roof, brushed surface (at twitter.iron: roof made of weatherproof steel which corrodes over time), three-layer panel, environmentally friendly paint for all lacquered variants.
17 × 17 × 17 cm, entrance hole Ø 3,2 cm, 1,9 kg
Awards:
- Focus Open Silber 2011
- German Design Award 2012, nominated
Design classics: Produced since 2010
Design: Peter Keilbach
Made in Germany, manufactured in Baden-Württemberg