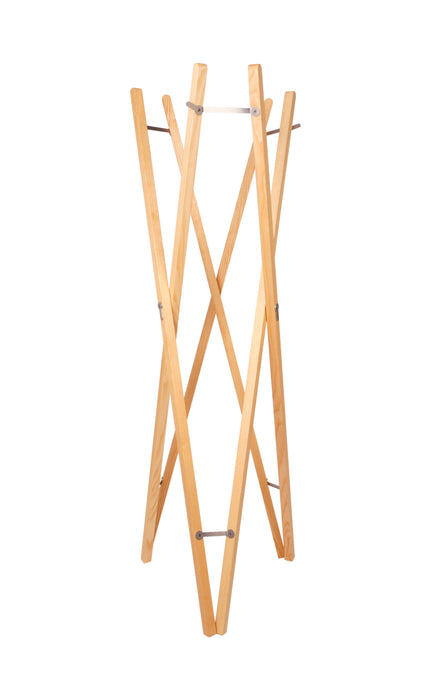 cross my heart
Save

€-299,00
Including value added tax
A versatile stand-alone coat rack!
The cross-my-heart coat rack is a design object of distinctive, asymmetrical beauty that enriches any modern living environment. Filigree sticks made of oiled ash shape a fantastic structure that is formally oriented towards the architecture of deconstructivism. Every angle is different, the viewer's imagination is challenged again and again.

A fascinating piece of furniture that ingeniously combines unconventional beauty and well thought-out function. With a twist, the coat rack is set up in seconds, without any further assembly work. Cross-my-heart then offers numerous hanging options for jackets, coats and bags on six sticks and three hooks. Clothes hangers and scarves find plenty of space on the three stainless steel crossbraces.
cross-my-heart
6 sticks in ash, oiled
3 coat rails in stainless steel
3 hooks in stainless steel
Connecting elements in stainless steel
Can be unfolded in a simple twist
Diameter 58 cm, height 166 cm, 7,2 kg
Design classic: Produced since 2014
Design: Peter Keilbach
Made in Germany, manufactured in Baden-Württemberg